Summary:
A large consumer products company had various clear tape and adhesive hook displays set in the Seasonal department of a national retailer over seven weeks leading up to Christmas. RMS serviced clear tape, across all retailer stores, two sidecaps in Grocery and Seasonal and in the Wrapping Aisle. Adhesive hook displays in Trim-A-Tree and home location POGs were serviced in 1781 stores.
RMS Action
Weekly service priorities included locating & stocking product on various salesfloor locations (endcaps, sidecaps, and inline). Servicing priorities changed based on client's needs throughout the seven weeks. Additional tasks included stocking in the wrapping aisle closer to Christmas, and moving adhesive hook product from Seasonal to home locations closer to Christmas. An additional priority was added to audit an incremental greeting card display at the front of the store. Using REX, RMS's proprietary field software, merchandisers were able to report completed stores and uploaded photos immediately for compliance review and quick reporting to the client.
Results:
RMS provided reporting showing the number of displays set, units stocked, and resulting overall store compliance.
The client had access to photos from each store showing before and after the units were stocked in each department and display.
RMS stocked approximately 12,513 units of clear tape units on all displays over seven weeks.
RMS stocked approximately 15,685 units of adhesive hooks product on displays and in the home location over seven weeks.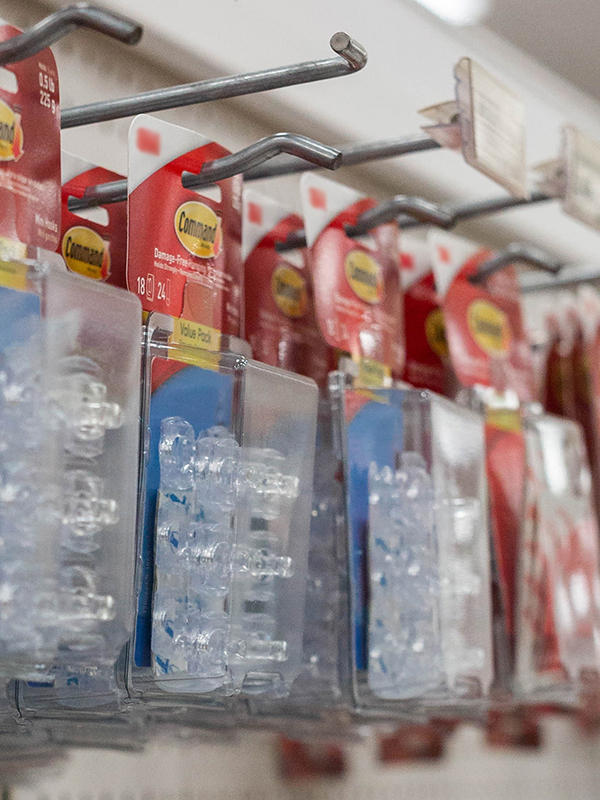 Our Services
As a full-service national merchandising firm, RMS offers complete in-store merchandising solutions. You've made a big investment in getting your product to retail, now make a good impression on your customers. You can feel confident that your products are available, engaging, and are accurately inventoried.
Our Services