Retail Planogram Maintenance
Planogram (POG) maintenance is a retail store health checkup. With well executed planograms, your items are always on the sales floor and inventory counts are accurate.
Why are planogram services important?
70% of purchases are made at the point of sale. If your product isn't available, you lose not only the sale but possibly a customer for life.
64% of all shoppers say the in-store experience has the greatest influence on their purchase decision. Make sure your product is presented well and engaging to the customer.
Fixing the shelf raises sales 6% on average.
Ongoing planogram retail merchandising services reduce out-of-stock events by 23% on average.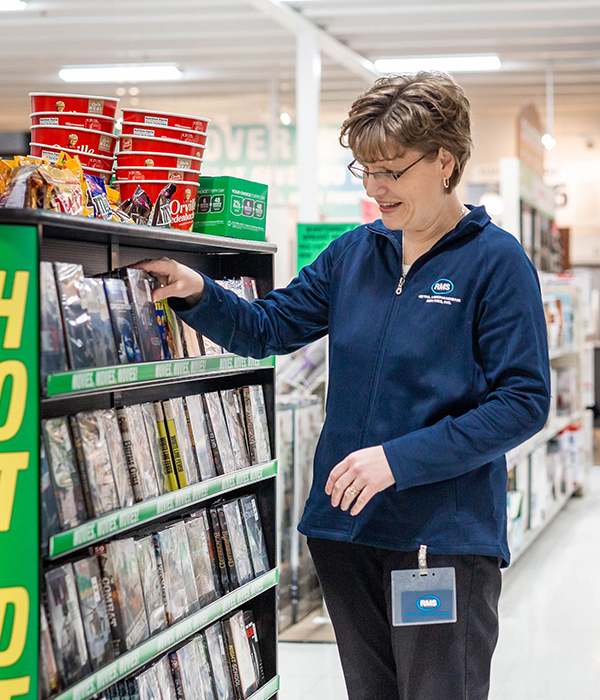 Primary tasks performed during a planogram maintenance service:
Organize and arrange product to the retail planogram. Make sure the area is clean and engaging.
Stock products from the backroom to the salesfloor, making sure shelves are full.
Review condition of point-of-purchase materials. Remove and install items where requested.
Resolve count inaccuracies by working with store personnel.
Take a photo once the tasks are completed.
RMS Deliverables
Clients have their own experienced account manager. Account managers work with you throughout the entire process to develop the service, create the questions you want answered, and conduct field tests. Your account manager keeps you updated throughout the project with status reports, service insights, and final detailed results.
The RMS Compliance Team works with the field team to provide best-in-class execution and proofs 100% of the photos taken during this service to ensure accuracy and thoroughness. RMS delivers three reports: two are summaries of progress and findings during the service and the final report includes store-level detail and is delivered within 48 hours of service completion.
Case Study
A large consumer products company had various clear tape and adhesive hook displays set in the Seasonal department in Target over seven weeks leading up to Christmas. RMS serviced clear tape, across all Target stores, two sidecaps in Grocery and Seasonal and in the Wrapping Aisle. Adhesive hook displays in Trim-A-Tree and home location POGs were serviced in 1781 Target store.
Learn More