Food and Beverage Merchandising
RMS helps non-direct-to-store food and beverage suppliers keep their product in stock, accurately inventoried, and rotated for freshness.
Why is food & beverage merchandising important?
70% of purchases are made at the point of sale. If your product is not available, customers are likely to switch to a competitor and may not come back to your brand.
Product rotation based on expiration date lowers spoilage, increasing profit margins.
Count integrity is critical in the fast-turning food and beverage category. Inaccurate counts and voids disrupt re-orders, creating out-of-stocks and lost sales.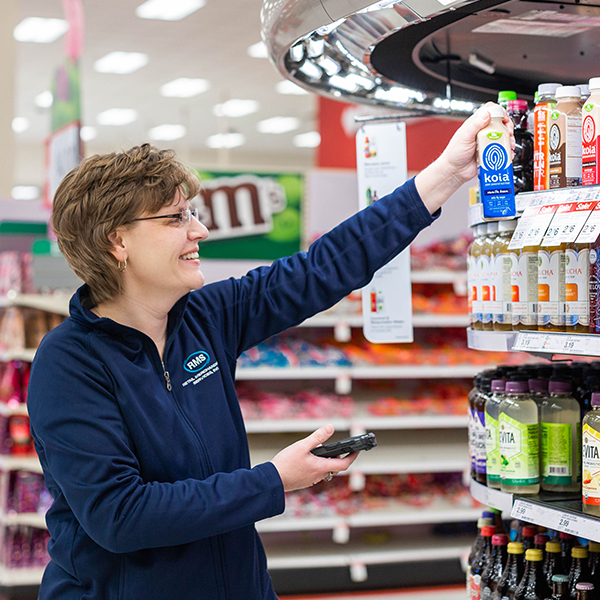 Stocking shelves from backroom inventory.
Rotating products according to expiration and sell-by dates.
Correcting shelf voids and inaccurate inventory counts.
Applying Instant Redeemable Coupons (IRC) promotions.
Auditing shelf placement and facings.
Auditing and printing price shelf tags.
RMS Deliverables
Clients are assigned their own experienced account management team. Account managers work with you throughout the entire process to develop your food and beverage merchandising strategy and conduct field tests of the service. Your account manager keeps you updated throughout the project with status reports and detailed results.
The RMS compliance team works with the field team to provide best-in-class execution and Proofs 100% of the photos taken to ensure accuracy and thoroughness. RMS delivers three reports as part of our food and beverage merchandising service. Two are summary reports of progress and findings and the final report includes store-level detail and is delivered within 48 hours of service completion.
Case Study
RMS collaborated with 6 beverage brands to create a customized service to address void/phantom inventory issues. The service focused on zoning, stocking, count corrections and out of stock reporting. Total store item counts ranged from 5 to 15 per brand.
Read More